Celso Braz merges his passion for music and his artistic talent to create original music art for printables and NFTs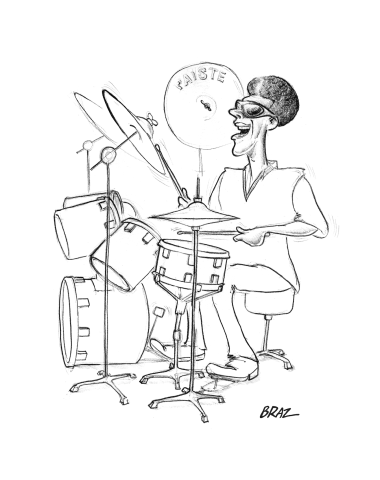 The groovy and quirky artworks for music lovers can be used as home or wall decoration pieces and collected as valuable NFTs.
Graphic art has become a major expression of its creativity due to the versatility of the muse or inspiration of the artist and the range of platforms for its exhibition. Graphic designers have managed to communicate their various interests and hobbies to a wide audience through the platform of their artworks which can be purchased for aesthetic purposes or collected as an investment piece.
Celso Braz is a graphic designer and illustrator who thrives in a particular niche, creating original, printable timeless drawings of musicians in their elements. The ardent music lover painstakingly draws, develops and sells his music-centric art on Etsy and has plans in place to create NFTs of his illustrations. His quirky musical art features guitarists, saxophonists, trumpeters, drummers, violinists, and bassists, sketched in soft black lines, big hairstyles, and funky glasses. Most notably, the performers seem fused with their instruments while exuding ethereal joy and possessing charming expressions.
Music lovers around the world will be delighted to have a copy of Celso Braz's art that expressly captures the joy of musicians while playing their instruments. Celso recounts the factors that gave rise to his form of creative expression, in his words: "I started listening to my parents' old records and fell in love with music and rhythm. The sounds of funk, jazz, samba and rock left a lasting impression on my soul and awakened the artist in me. I started capturing the energy, expressions and mood of musicians in drawings and have never looked back since. Celso's range of musical wall art is easily affordable, ranging from six to twenty-seven dollars. The printable art store can be accessed at www.BrazMusicWallArt.etsy.com
For more information, please visit https://www.brazart.org/
Media Contact
Company Name: Braz Art
Contact person: Celso Braz
E-mail: Send an email
Call: 415-254-8223
Country: United States
Website: https://www.brazart.org/