FSU 25th Anniversary Season Opening Nights Features Emmylou Harris, Jay Leno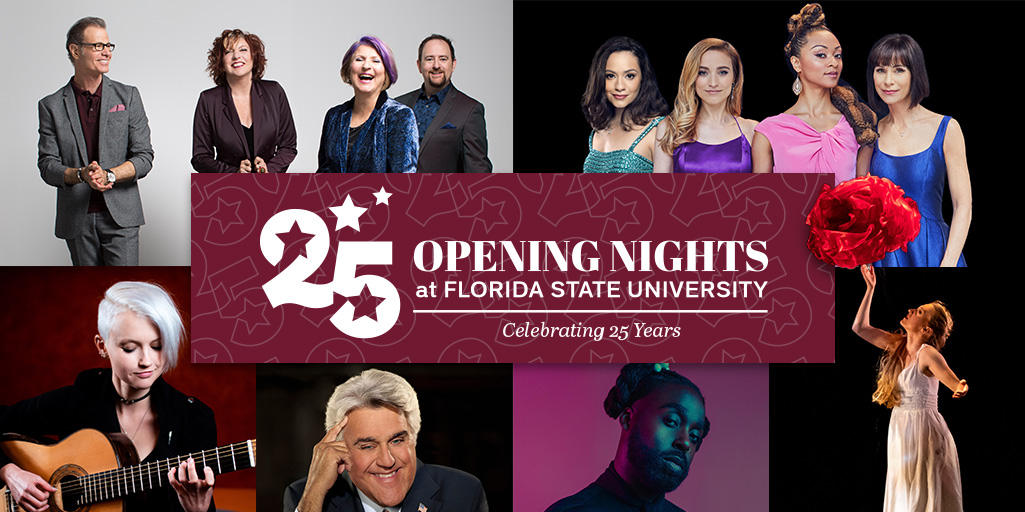 Singer-songwriter Emmylou Harris, comedian Jay Leno, novelist Colson Whitehead and ABBA tribute band The Concert mark the upcoming 25th anniversary season of Opening Nights at Florida State University.
The 2022-2023 season kicks off August 3 with a performance by ABBA The Concert at the Ruby Diamond Concert Hall – the pinnacle of a 70s summer celebration night that encourages audiences to dress up for the occasion (bottom of bell? You bet!) and attending a pre-show dinner in the Suwannee Room dining room.
The season continues with a lineup of announced and emerging artists representing dance, music, film, theatre, opera, comedy, visual arts and spoken word.
Performances will take place at a variety of venues on and off the FSU campus, including Ruby Diamond Concert Hall, Opperman Music Hall, Nancy Smith Fichter Dance Theater, the FSU President's House, Dohnányi Recital Hall, and Richard G. Fallon Theater. Opening nights will also host performances at LeMoyne's Chain of Parks Art Festival, the Goodwood Museum & Gardens, and Tallahassee Community College's Fred Turner Auditorium.
Collaborative partners include FSU's Colleges of Music, Fine Arts, and Film Arts, as well as the Tallahassee Symphony Orchestra and LeMoyne's Chain of Parks Art Festival.
"The programs selected for the 25th Anniversary season demonstrate Opening Nights' continued commitment to presenting the very best," said Jennifer Wright-Allen, Director of Opening Nights. "We curated a season for art lovers of all ages and collaborated with partners on and off campus to present unique cultural experiences."
Whitehead, author of Pulitzer Prize-winning "The Underground Railroad", appears Feb. 9 at the Ruby Diamond Concert Hall. Next at the same venue will be 14-time Grammy Award winner Harris, performing March 4; and Leno, the former host of "The Tonight Show with Jay Leno," who appears March 29. The lineup also includes a Jan. 24 performance by Orlando-based a cappella group Voctave.
In collaboration with the FSU School of Dance, ON will present "fence" by staibdance on September 21 and 22 at the Nancy Smith Fishter Dance Theatre. Other dance performances include the highly acclaimed Step Afrika! (February 7) and Momix (February 14).
The film returns to the Opening Nights lineup on September 29 with a screening of "1982," from award-winning director, screenwriter and producer and FSU graduate Oualid Mouaness. The screening is a collaboration involving FSU's College of Motion Picture Arts.
Jazz fans will enjoy the high energy and excitement of Scott Bradlee's Postmodern Jukebox (October 2), International Guitar Night (January 19), Ethiopian American singer Meklit (February 28) and the Zodiac Trio performing Benny Goodman (3rd of March).
Family performances include Disney Princess: The Concert, featuring acclaimed Broadway performers Christy Altomare, Susan Egan, Isabelle McCalla and Syndee Winters (November 4) and a production of "The Jungle Book" by The Panto Company (March 23) .
Fans of the Goodwood Museum & Gardens will enjoy the John Jorgenson Bluegrass Band (October 24) and Celtic rock group Seven Nations (November 17).
An acclaimed all-female Norwegian brass band, tenThing Brass Ensemble, offers a holiday program on December 8.
The Grammy-winning Manhattan Transfer celebrates its 50th anniversary and final world tour with special guests, the DIVA Jazz Orchestra, January 12 at the Ruby Diamond Concert Hall.
February, the month leading up to opening nights – the Seven Days of Opening Nights festival – offers many opportunities for artistic and cultural experiences.
The House of the President of the FSU will host, on a date to be determined, a Salon Concert with a surprise artist. "The Other Mozart" (February 4), an award-winning solo piece telling the forgotten story of Amadeus Mozart's sister, Nannerl, will take place at Tallahassee Community College's Turner Auditorium. Other events include a collaboration with the Tallahassee Symphony Orchestra to present Queens of Soul, featuring singers Morgan James and Erica Gabriel (February 11).
The New York Gilbert & Sullivan Players will present "The Mikado", a comic opera, on March 11.
Representing the visual arts, John Ensor Parker, graduate of FSU (April 13), presenting artist for LeMoyne's Chain of Parks Art Festival, will discuss "art and science" and how the two go hand in hand. 'a.
In collaboration with FSU's College of Music, students will perform PRISM – a compilation of musical vignettes featuring 35 individual performances and over 500 wind, brass and percussionists – at the Ruby Diamond Concert Hall at 2 p.m. on April 16.
To conclude the season, Piano Battle (April 25) will feature two pianists who will compete with humor and accessibility for all music lovers.
Opening Nights presents two ticket sales windows for the 2022-2023 season. The fall sales window includes performances from August through January, and the spring sales window includes performances from February through April.
Although they are going fast, tickets remain on sale for ABBA The Concert. Otherwise, tickets for the fall shows will go on sale to the general public on Thursday, August 25. Opening night sponsors and members can purchase tickets before tickets go on sale to the general public.
To order tickets and see the full season lineup, visit OpeningNights.fsu.edu.
###