TCCA is hosting two performances next week | Culture & Leisure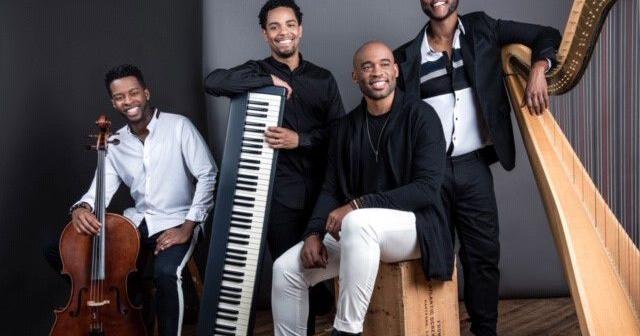 Music lovers can enjoy two performances next week, thanks to the Tonto Community Concert Association.
The Sons of Serendip bring their talents to Rim Country at 2:30 p.m. Sunday, January 16 at the Payson High School auditorium.
The Black Market Trust appears at 7 p.m., Saturday, January 22, also in the PHS Auditorium.
The Sons of Serendip offer ethereal and emotionally moving interpretations of pop music, arranged with a unique blend of vocals, harp, piano and cello.
The Black Market Trust is an American jazz pop/vocal group that combines the sounds of the great American crooners and vocal groups with the romantic Eastern European gypsy fire of jazz guitarist Django Reinhardt.
The band are making a comeback performance due to popular demand after a stunning Payson 2020 appearance.
Sons of Serendip is a musical group of four friends who, through a series of serendipitous events, came together at Boston University's graduate school. Micah Christian, a former teacher from Randolph, Mass., is the band's lead singer; Cordaro Rodriguez, a former attorney from Charlotte, NC, is the pianist and guitarist; Kendall Ramseur, a former cello teacher from Charlotte, NC, is cellist and vocalist; and Mason Morton, who is a former teacher from Atlanta, Georgia, is the quartet's harpist.
Christian, originally from Randolph, Mass., was interested in music at an early age. However, it wasn't until his senior year of high school, when he got a solo in the Massachusetts Southeastern District Senior Choir, that he realized his potential as a musician.
As a freshman at Stonehill College, he followed his passion for music. For the next five years, he spent his summers performing with Cape Cod-based a cappella group Hyannis Sound, and his love for music deepened.
As a member of Sons of Serendip, Christian hopes to inspire others to use their gifts to spread love and build a better world.
Ramseur is a singer-songwriter, composer and cellist from Charlotte, North
Caroline. His relationship with music began at the age of 7, when his father bought an upright piano for the family. While excelling in his piano studies, Ramseur found his favorite instrument at the age of 10: "My orchestra teacher put all the instruments on the floor in the classroom and told each student to standing near the instrument of his choice… the cello really sparked something in me." He chose the cello that day, and one of the ways he would express himself chose it. Ramseur then went on to received his bachelor's and master's degrees from the University of North Carolina School of the Arts and Boston University, in musical performance with a concentration in cello.As a member of Sons of Serendip, he hopes this quartet will inspire others through their music, creating an experience one will never forget.
Morton was born in Atlanta, Georgia. His love of music was instilled in him at an early age and quickly became a passion for him. Morton began to see her own potential with the help of her harp mentors: Atlanta Ballet principal harpist Nella Rigell and former Boston Symphony Orchestra principal harpist Ann Hobson Pilot. It was their combined faith in Morton that gave him the courage to believe in himself. After completing his graduate studies at Boston University, he is delighted that his musical journey led him to Sons of Serendip. As a member of Sons of Serendip, he hopes his journey will help inspire others to pursue their dreams.
Rodriguez was born in Charlotte, North Carolina. He started learning the piano at the age of 10 and became familiar with several other instruments as well as musical production. He has produced music for several renowned international artists. He then attended Boston University School of Law where he accidentally reconnected with his childhood friend, Ramseur, and met his future bandmates – Morton and Christian. As a member of Sons of Serendip, Cordaro is very grateful to have the opportunity to pursue his love for music.
The group has four successful albums: Sons of Serendip, Christmas: Beyond the Lights, Life + Love and Mosaic. Their most notable performances include collaborations with Keith Lockhart and the Boston Pops, Plymouth Philharmonic Orchestra, Cincinnati Symphony Orchestra and Cynthia Erivo, as well as performing for the Creative Arts Emmy Awards (FXX). In 2019, Sons of Serendip returned to the America's Got Talent stage, as they were selected to compete in the first-ever America's Got Talent: The Champions. Most recently, the band performed for Oprah Winfrey's 2020 Vision Tour wrap-up celebration in Denver, Colorado.
This American jazz pop/vocal band combines the sounds of great American crooners and vocal groups with the romantic Eastern European gypsy fire of jazz guitarist Django Reinhardt. Made up of five world-class musicians who have traveled the world on the world's biggest stages and with the most renowned artists in music, they capitalize on their experience and pedigree to bring a new and exciting sound to audiences and listeners. .
The Black Market Trust has organically created a new sound that is bold, fresh and exciting while remaining familiar and inviting, combining the romance of the old world with the new shape of the world.
The band's first all-instrumental studio album, The Black Market Trust, is widely considered a milestone in the world of gypsy jazz, and lead guitarist Jeffrey Scott Radaich gained notoriety for his technical prowess and musicianship. He has been touted as one of the most innovative and influential American acoustic gypsy jazz guitarists today.
With their debut album, the band established themselves as leaders and innovators by combining pop sensibilities with the traditional sound of Django Reinhardt's Hot Club of France Quintet.
From 2009 to 2015, bassist Brian Netzley and guitarist Radaich were members of the groundbreaking Gonzalo Bergara Quartet and after spending 6 years training as cast members, Netzley and Radaich decided the time was right to focus. on a new project that would stay true to their love of Django but combine it with a new sound and the sensibility of the great pop and rock bands they grew up listening to and loving.
They recruited Brandon Laws, a Los Angeles-based session and touring drummer, and Nick Coventry, a fiddle hero from Tucson, Arizona, and expert in Eastern European folk music. They then rounded out the lineup with prodigy Kale Stiles, who plays rhythm guitar, clarinet and saxophone and even lap steel. Along with new musicians, they also decided to add another new element to the Black Market Trust sound: vocals.
The band's first all-instrumental studio album, "The Black Market Trust", was released in 2012. The band capitalized on their experience and pedigree to deliver a critically acclaimed second album. More recordings followed, the most recent being "Anything For You".
Radaich plays guitar and leads the vocals.
Whether traveling the world with the Gonzalo Beragra Quartet, backing Grammy-winning guitarist John Jorgensen, or playing rhythm for gypsy jazz icons Bereli Lagrene and Stochelo Rosenberg, the singer/guitarist Radaich has become known worldwide as a first-call player when it comes to gypsy swing.
Originally from Southern California, he grew up under the influence of rock guitarists Eddie Van Halen, Eric Johnson, Nuno Bettencourt and Stevie Ray Vaughan. In 2006, he discovered the music of Django Reinhardt and immediately fell in love with the style. Since then, Radaich has worked to develop a unique and fiery lead guitar style that is a synthesis of his lead guitar heroes, with nods to classical composers, blues legends and western swing guitar greats. steel. His approach to the gypsy swing style is quintessentially American, and he has risen through the ranks to become one of the top gypsy swing guitarists in North America, and a much sought-after instructor in masterclasses around the world.
As well as handling lead guitar duties for The Black Market Trust, he is also the lead vocalist, with a rich baritone that pays homage to the great crooners while moving with a tone and phrasing all his own.
Coventry plays the fiddle and sings.
Coventry quickly became one of the most respected gypsy jazz fiddlers, playing festivals and stages in Chicago, Los Angeles, San Francisco and New York, in addition to performing throughout Europe and South Korea.
Netzly plays acoustic bass and sings.
Netzley is one of the most sought-after bassists on today's gypsy jazz scene. As a member of the Gonzalo Bergara Quartet, the New Hot Club of America and the Black Market Trust, he has earned a reputation as a solid, tasteful and versatile musician, frequently invited to support the best European artists when they meet. produce in the United States. states.
Laws plays drums and sings.
Laws is a touring drummer and percussionist who maintains a studio in Long Beach, California. His new perspective, dedication and love for the craft led him to play with several artists in many different styles, and he recorded and performed across the United States. and abroad.
Laws began performing with The Black Market Trust in 2015, providing the pulse and energy to the band's American Gypsy Swing sound.
Stiles plays rhythm guitar, clarinet, saxophone and does vocals.
Stiles is a multi-instrumentalist originally from the Big Island of Hawaii who now also calls Long Beach home.
A lover of old songs and always eager to learn a new melody, he spent a lot of time playing and studying the music of Dixieland in New Orleans.
In the past, TCCA customers have purchased season tickets or purchased tickets at the door for each individual concert. TCCA customers can now also order tickets online through a new Print at Home feature recently added to the TCCA website: www.tccarim.org. Customers can now purchase TCCA concert tickets in advance from their personal computer or smart phone and print their PDF tickets on their home printer.
Children and students under 18 are admitted free when accompanied by a ticketed adult.
For more information, visit the association's website at www.tccarim.org or call 928-472-2423 or 928-487-1232.
A base subscription for all eight concerts in the 2021-22 season is $120. Single tickets are $25.
Wearing a mask is strongly recommended during performances.
The TCCA works with Live On Stage, Inc. to provide excellent and affordable entertainment attractions and support services.