The Epichorus brings to Sheffield its blend of Indo-Arab roots and contemporary music inspired by ancient sounds | Berkshire landscapes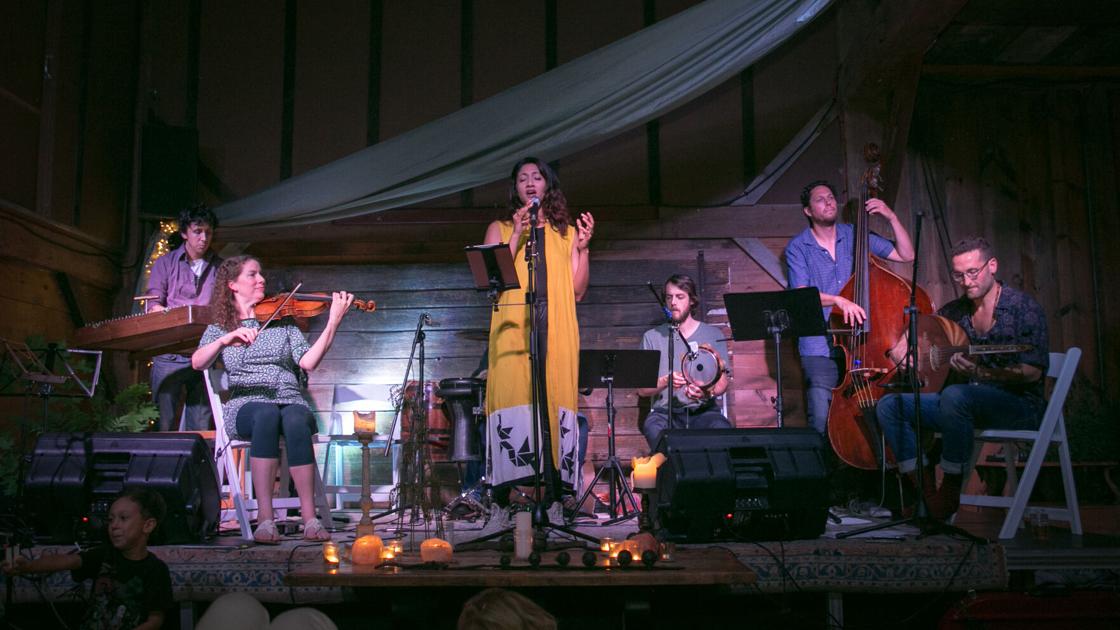 [ad_1]
SHEFFIELD – In a rustic New England barn, distant sounds are at your fingertips.
On October 8 and 9 at Sheffield's Race Brook Lodge Barnspace, Brooklyn-based ensemble The Epichorus will perform a contemporary take on traditional music from the Middle East, Greece, Egypt and India, bringing of ancient poetry sung in Hebrew and Hindi in the present day.
A full ensemble concert on Friday is followed on Saturday by smaller setup compositions written during the stop.
Founded and led by Zach Fredman, who plays the oud, a Middle Eastern lute, the group includes co-founding violinist Megan Gould, Max ZT on hammered dulcimer, percussionist Rich Stein and Daniel Ori on double bass.
New York-based South Indian singer Priya Darshini, whose debut solo album "Periphery" recently won a 2021 Grammy nomination for Best New Age Album.
"I grew up playing classical guitar, and at one point I fell in love with oud," Fredman said in a phone interview from Cape Cod. "It took me on a path studying Middle Eastern music."
At New York University, the Missouri native changed his specialization from guitar to religion, becoming a rabbi and leading the New Shul congregation in Manhattan for 10 years.
At rabbinical school he spent a semester in Jerusalem, where mid-20th century Jewish immigration created musical communities from Egypt, North Africa, Syria, Iraq and Turkey – " really distinct lineages, "said Fredman.
"I had just enough education in Arabic music to understand what was going on, and I ran from teacher to teacher taking lessons."
On Shabbat mornings, he got up early to listen to vocal improvisations by master musicians in a Syrian synagogue.
Back home he wrote songs, reuniting friends in 2012 to form The Epichorus and record an album.
From a stable of a dozen musicians, he brings his hard core to Sheffield.
"Priya is coming off the success of her solo album," he said. "She's married to Max, the dulcimer player, so they have great chemistry on stage."
International violinist Gould studied with Fredman's late Lebanese oud teacher Bassam Saba. "We share the background of Arab music," he said.
Bassist Daniel Ori "is more of a jazz player. Growing up in Israel, he was exposed to Arabic and Middle Eastern music, so he has an appreciation for all the intricacies. "
Multi-instrument percussionist Rich Stein "is the comedian," says Fredman. "He'll take the microphone and tell jokes in the middle of the set. He is really funny.
They perform songs mostly written in Hebrew.
"Most of the repertoire is music that I've composed, but I'm not a lyricist," said Fredman. "I study beautiful poetry from the 2nd to the 14th century.
Their 2018 album "Najara" is named after 16th-century poet and rabbi from Gaza, Israel Najara. He wrote religious poetry over folk melodies heard in taverns, Fredman said. "I like the feeling that the religious and secular border can be crossed and that the music crosses it."
Darshini, he noted, sings melodies first in Hebrew and then in a language she speaks better like Hindi or Tamil.
The mix of Middle Eastern and Indian cultures is testing the limits of global musical boundaries, Fredman said. "We are attentive to this line, how to be respectful of traditions.
A longtime student of Indian classical music raised in Mumbai, singer-songwriter Darshini has sung and voiced Bollywood films and television commercials; has performed in Hollywood and on stage, and has directed Raga music ensembles.
She studied film in New York and worked before and behind the camera in India and Hollywood. As an athlete, she was the champion of the 100 mile ultra-marathons in the Himalayas.
She has recorded extensively, with Pearl Jam and many others, and has toured with musicians in India and the United States, including Roy "Futureman" Wooten based in Nashville, Tennessee.
Her American partner Max ZT, whom she met in India, introduced her to Fredman.
"His music was so beautiful, I was very excited to be a part of it," Darshini recalls, saying the ensemble feels like family. "They are all so exceptionally talented, it feels like we are taking people on a journey."
Expect a sublime evening of transporting music, said Casey Meade Rothstein-Fitzpatrick, general manager of Race Brook Lodge, which has been in his family for 30 years.
Having lived in Greece, India and New York before returning to the Berkshires, he features artists from a wide cultural and musical spectrum – from Mandolin Orange to Al Sarah and the Nubatones – as well as classical Indian music.
"It's really eclectic, there's no specific genre," Rothstein-Fitzpatrick said, "we only bring in people we have a personal fondness for.
"The level of musicality, emotional and spiritual sensitivity, openness to different styles, the beautiful sense of harmony and the incredible instrumentation of the Epichorus will make this musical experience a very special musical experience."
[ad_2]