The WWII film "Wolf Hound" inspired by a secret Nazi air combat unit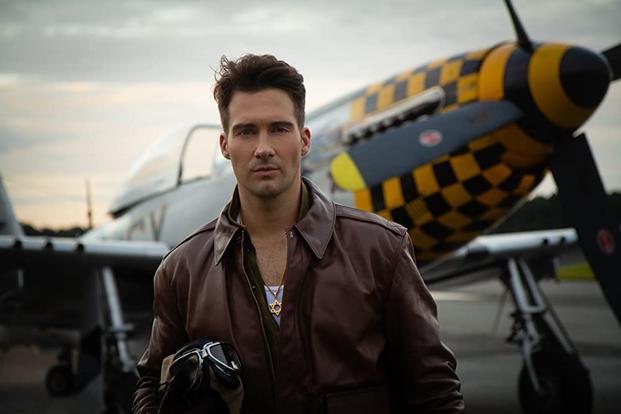 The World War II thriller "Wolf Hound," which has been in the works for nearly four years, is finally slated to hit theaters and on home video in the summer of 2022. The film tells the story of the unit of special operations Luftwaffe KG-200, which repaired downed Allied aircraft and used them for Trojan missions deep behind enemy lines.
Director Michael Chait makes his film debut with "Wolf Hound," but the seasoned business executive has done some groundwork in a series of short documentaries about historic aircraft and one about the Michigan Air National Guard.
Chait teamed up with Craig Hosking as air coordinator and lead pilot, roles Hosking also played in Christopher Nolan's 2017 World War II film "Dunkirk." Along with cinematographer Westley Gathright (who has worked with Chait on his previous aircraft documentaries) and aerial cinematographer Dwayne McClintock, the team set out to capture as much live action footage as possible with minimal use of digital effects.
The Yankee Air Museum in Belleville, Michigan provided its factory bomber hanger for location filming and allowed the production to use its North American B-25 Mitchell bomber and one of only 10 Boeing B-17 Flying Fortress bombers still in flight.
When the film was originally announced in 2018, Chait said he also hoped to use P-51 Mustangs, a Supermarine Spitfire, a Hawker Hurricane and either a German Messerschmitt Bf 109 or a Focke-Wulf Fw 190 in the movie, but a trailer will hopefully answer those questions.
The film tells the fictional story of Captain David Holden, a Jewish American fighter pilot shot down behind enemy lines. To foil a plot that could bring victory to the Axis, Holden must evade the enemy as he rescues a captured B-17 Flying Fortress bomber crew.
The film stars James Maslow as Holden. Best known for his role on the Nickelodeon series, "Big Time Rush," and his membership in the show's spin-off musical group, Maslow says he has a personal connection to the story. "My grandfather flew B-17s in World War II and I always wanted to play a pilot from that time period," he said during the film's production. "This story is remarkably similar to something he actually experienced."
Trevor Donovan, better known as Teddy Montgomery on the CW series "90210", plays Holden's nemesis, German officer Major Erich Roth.
Chait is thrilled that his film is getting a release from Lionsgate's Grindstone division. "Having the opportunity to direct such a talented cast and crew, and tell a powerful story on an epic canvas for my first feature film, is truly both an honor and a dream come true," Chait said in a statement. Press release. "I want to give audiences an exciting and moving experience with 'Wolf Hound', using our feel, style and tone to put them there with our characters in the middle of the action! I can't thank Grindstone enough for their trust. in our movie."
If "Wolf Hound" was truly made with live dogfight scenes and minimal computer-generated effects, it should be one of the most interesting military movies of 2022. We'll find out this summer.
Follow the best of military entertainment
Whether you're looking for news and entertainment, considering joining the military, or following military life and benefits, Military.com has you covered. Subscribe to the Military.com newsletter to receive military news, updates and resources straight to your inbox.
Show full article
© Copyright 2022 Military.com. All rights reserved. This material may not be published, broadcast, rewritten or redistributed.