EXEC: Olympia Sports bankruptcy blamed on pandemic and software shortcomings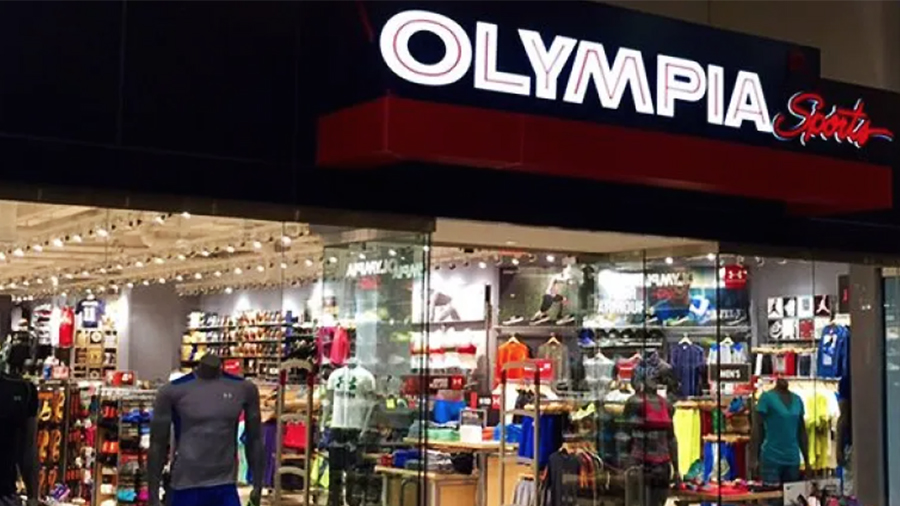 IIn an affidavit, as part of Olympia Sports Acquisitions' bankruptcy court filing, Mark Coffey, CEO since March 2022, attributed the filing to pandemic-induced sales issues, a failed software deal and to a restrictive loan agreement.
In July, the Auburn, Maine-based retailer confirmed it would be closing its 35 remaining retail stores by the end of September, and a business closing sale (GOB) at all of its doors. would begin at that time.
In the affidavit, Coffey wrote that the bankruptcy filing was necessary to "maintain the trust and support of their key customers and employees during the GOB sale process and the subsequent liquidation of the remaining operations."
In the affidavit, Coffey, a 14-year veteran of Olympia Sports who was named CEO in March 2022 and previously chief information officer, noted that Olympia was founded in 1975 by Ed Manganello with the aim of meeting the needs in sporting goods from small communities throughout the Northeast and Mid-Atlantic regions.
Beginning with its first store in Portland, ME, Olympia grew slowly, eventually reaching over 230 locations by 2012. Retail stores ranged from 4,000 square feet, including many malls, to 15,000 square feet.
From 2013 to 2019, Olympia closed underperforming stores when leases expired.
In October 2019, RSG, also a party to bankruptcy, acquired the intellectual property of 75 stores and the company's online business. At that time, Olympia had 152 stores, and the 77 unacquired stores were closed.
RSG was created in 2017 when CriticalPoint, a venture capital firm based in Manhattan Beach, Calif., acquired JackRabbit from The Finish Line. At the time of the acquisition, Jackrabbit had 55 stores and a "significant e-commerce presence," Coffey said.
As noted by Coffey, CriticalPoint sought to create a "family of brands" focused on footwear, apparel and accessories with the acquisitions of Olympia Sports in October 2019 and Shoebuy.com in October 2020. Walmart owned Shoebuy .com.
The struggles of Shoebuy.com
Challenges Shoebuy.com played a significant role in the bankruptcy. Coffey noted in the affidavit that in the year prior to its acquisition, Shoebuy.com lost about $19 million on sales of $131.4 million. Coffey said CriticalPoint believed Shoebuy.com's losses resulted from high expenses related to Shoebuy.com's "in-house" online platform, which required a large support staff to operate.
CriticalPoint estimated that Shoebuy.com would become "extremely profitable" with a streamlined and efficient online platform.
According to Coffey, the company tapped Salesforce in April 2021 to provide e-commerce support for Shoebuy.com, Olympia, and Jackrabbit, hoping the deal would result in more than $400 million in gross sales; however, Salesforce's order management system was resulting in duplicate, unprocessed, or misdirected orders. At launch, Shoebuy.com's average gross sales per day increased from approximately $360,000 to $224,000.
Coffey wrote, "Due to numerous issues associated with the Salesforce Platform, substantial funds have been expended by Debtors in an attempt to resolve these issues and/or create workarounds for items that Salesforce did not have. couldn't solve."
The significant drop in sales also impacted the availability of funds under its then loan agreement with White Oak Global Advisors. White Oak has secured all assets of RSG. The availability of funds under the loan was calculated based on eligible inventory and accounts receivable.
Olympia Sports' operations disrupted by the pandemic
While Shoebuy.com struggled to implement a new order management system, Olympia Sports' business struggled due to the seasonality of its business and the residual effects of the pandemic.
Coffey wrote in the affidavit that Olympia Sports' business was seasonal and earned much of its income during holidays and back to school. Conversely, Olympia constantly struggled throughout the spring and summer. He shared, "While Olympia was generally able to generate enough revenue to sustain operations until the start of the new school year in the fall, the COVID-19 outbreak and stay-at-home orders and associated closure resulted in lower sales for Olympia in the year prior to the Salesforce contract. Additionally, the closures caused by COVID-19 aged Olympia's inventory, meaning much of Olympia's inventory was junk and hard to sell.
While Olympia and Shoebuy.com struggled with the Salesforce platform and the continued effects of COVID, Jackrabbit remained largely spared and had positive EBITDA during this period, Coffey said. Jackrabbit's continued success allowed the RSG companies to support the operations of Olympia and Shoebuy.com and further allowed the RSG companies to continue to draw on the loan from White Oak to support operations. However, Coffey said that despite Jackrabbit's support, "it became apparent that the continued operations of the RSG companies were not sustainable given the current challenges with the Salesforce platform and COVID-related issues."
Jackrabbit Sales Process
At this point, former RSG Companies executives, led by CEO Bill Kirkendall and CFO Beau Swenson, began exploring a potential sale of Jackrabbit's assets to Fleet Feet Sports. Coffey added, "In pursuit of the goal of achieving this sale, former executives have chosen to focus their efforts and resources on maintaining sales levels at Jackrabbit. This has impacted the availability of funds to support Shoebuy.com and Olympia.
The sale of Jackrabbit's assets to Fleet Feet was completed in December 2021, and Kirkendall and Swenson ended their relationship with RSG Companies, "leaving new management to deal with any challenges left behind." While Fleet Feet acquired Jackrabbit's inventory liabilities, all other Jackrabbit liabilities were excluded from the sale," Coffey said.
Another downside of the Jackrabbit sale was that RSG companies began to only use 15% of the services provided in the Salesforce contract, and renegotiation efforts failed. In January 2022, RSG Companies stopped making payments on the Salesforce contract and Salesforce charged RSG Companies with default.
With Shoebuy.com's sales never rebounding, RSG Companies decided to sell Shoebuy.com's assets (primarily intellectual property and inventory) to stop losses associated with its operations and generate funds to repay White's loan. Oak.
Designer Brands, Inc., DSW's parent company, acquired Shoebuy.com. However, as with the sale of Jackrabbit, RSG ended up with the debts of Shoebuy.com in connection with the sale.
In April, RSG Companies hired Force Ten Partners, LLC, a consulting firm specializing in corporate restructuring and finding buyers for struggling businesses, and decided to close 22 of Olympia Sports' 63 remaining stores in order to to generate cash flow to continue to manage operations.
In July, Olympia elected to liquidate all remaining stores and stopped purchasing product and inventory. Since engaging SB360, Olympia Sports has, through liquidation, recovered approximately 110% of the cost of goods sold. The store liquidation is expected to be completed by the end of September 2022.
Coffey concluded: "I believe it is imperative that Olympia be able to proceed with the GOB sale process following the petition. As noted, Olympia plans to continue liquidating its stores before proposing a liquidation plan in this matter. Continuing the GOB sale process without interruption will give estates the best chance of maximizing returns for creditors. »
The affidavit noted that Olympia currently has 324 employees.
In 2020, Olympia's revenue was around $50 million, with earnings before interest, taxes, depreciation, and amortization (EBITDA) around negative $10 million.
In 2021, Olympia's revenue was approximately $74 million, with an EBITDA of approximately $1.5 million negative. In 2022, through July 31, revenue was approximately $28 million with an EBITDA of approximately $7.8 million negative.
The filing noted that Olympia ceased e-commerce operations in April 2022. Olympia only launched e-commerce sales in 2018, but was never able to turn a profit online due to the cost. shipping, the extent of competition in e-commerce. space and other factors.