Rivertown Players Bring '9 to 5 the Musical' to Lawrenceburg High School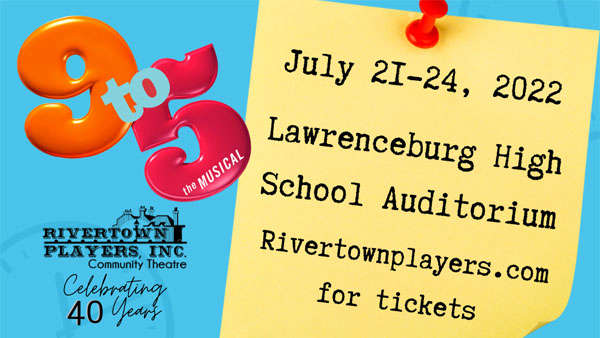 There will be several shows this Thursday-Sunday.
(Lawrenceburg, Ind.) – The Rivertown Players cordially invite you to our summer production of "9 to 5 The Musical" this weekend at Lawrenceburg High School. The performances will take place on Thursday, Friday and Saturday at 7:00 p.m. and on Sunday at 2:00 p.m. Sunday's performance will include American Sign Language interpretation by the Cincinnati State Interpreter Training Program.
In 1982, a group of local community members formed a community theater under the name Community Activities, Inc. The very first show was "Fiddler on the Roof" in July 1982. The following year, the group organized the company under Rivertown Players, Inc., a not-for-profit corporation.
Since that first opening night, RTP has had a 40-year history filled with over 100 stage performances. They added Rivertown Chorus and Rivertown Players Jr. and participated in many community activities.
With a diverse repertoire encompassing classic and timeless musicals, cutting-edge dramas, giddy comedies, one-acts, murder mysteries and choral productions, RTP has truly sought to bring the community a real sense of of cultural awareness, historical education and the enrichment of our daily lives through 40 years of presenting quality theater in Southeast Indiana.
Tickets available at the door (cash only please) or on our website at rivertownplayers.com.
More local news