Take care of yourself with new Pinegrove album '11:11′ – The Suffolk Journal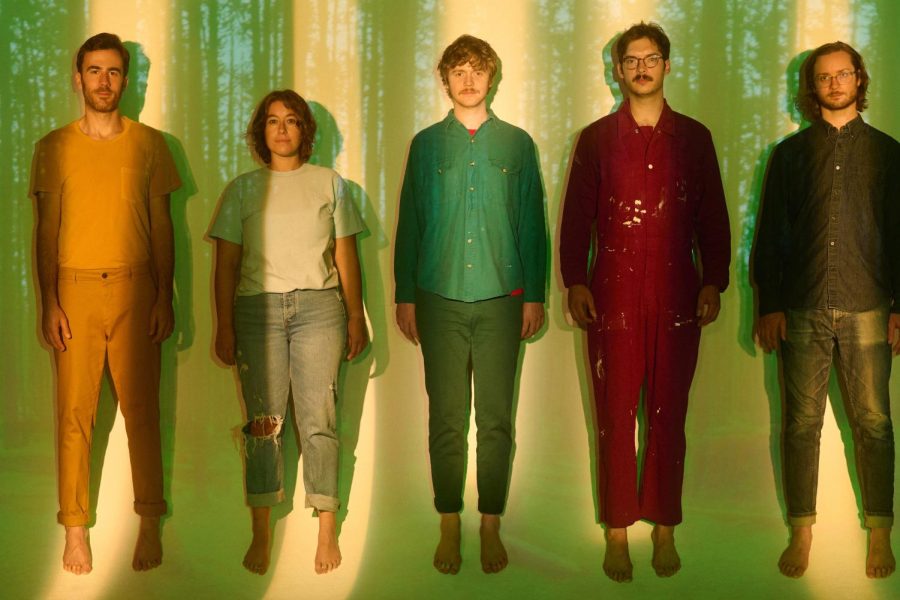 On "Habitat," the seven-minute opener to Pinegrove's fifth disc "11:11," frontman Evan Stephens Hall reflects and digests the trepidation of the past two years. As his lyrics suggest, he wishes to see "the present in retrospect".
Wistfully, as the birds chirp behind his voice, Hall sings, "In the morning I'll walk through the cold, but not alone," reminding his audience that he's always with them, no matter the situation.
This family attitude seems true to old Pinegrove records, as Hall always appeared as a tour guide throughout his coming of age. On "11:11", Hall never wanted to guide us further.
Pinegrove, the prolific indie-rock troupe from New Jersey, has had its fair share of growth over the past decade. Since 2010, Hall has sung about the losses we exhibit throughout our lives, from ex-girlfriends to old friends. But with their new record, Pinegrove zoomed back, looking at the loss of something even more substantial.
Replacing individual pain with the natural world, Hall became engrossed in the politics of the United States, particularly issues related to the ongoing climate crisis.
This was made public in August when Pinegrove released what was perhaps meant to be the heart of the tracklist: "Orange", which has Hall screaming "Today the sky is orange/And you and I know why" .
This track, despite its veracity, feels like it was made for vapid 20-somethings to post to their Instagram stories, only after feeling spurred on by a Vox video. It's an unflattering track, perhaps in an effort to grab attention, but it feels like a waste of space in a tracklist filled with much more interesting perspectives on the subject.
That said, "11:11" is still nothing but genuine. Hall is a tender but fearful guardian for his audience, trying to comfort them in fear despite his own discomfort.
"Flora" brings the record stirred content into a seemingly brighter and much dizzier melody. At first glance, Hall's cheery guitar and light-hearted vocal tone make "Flora" feel like paradise hidden in the awful forest "11:11" puts you in.
But then you dig a little deeper, which most Pinegrove songs demand and deserve, and you hear Hall singing "I walk outside / Nothing feels good", and suddenly the sun becomes our enemy, burning our skin and radiating even more terror.
As the song ends, Hall's voice slows, reluctantly singing "I pray now, to the forest, to the flora, to the ground now."
The album is master piece is a bittersweet ballad called "Respirate". Here, Hall takes your hand and leads you through his melancholic forest, telling you to "Take it day by day / And do your best to breathe", the reassuring lesson that "11:11" wants to teach.
It's easy to get lost in this song, because during its less than three minute duration, it can seem eternal in the most cathartic way possible.
In the last 10 years of Pinegrove's career, Hall reminded us of our pain without much guidance.
Focused on isolated evil, albums like "Cardinal" and "skylight" feeling like mirror images of our own lives, not knowing how to get better – probably a symptom of their emo roots, but they still did it in a big way.
On "11:11," Hall is more selfless and compassionate than ever. He no longer just twists the knife, reminding us of our own personal hell, but now he lends us a helping hand, letting us know that being hurt together is much better than being hurt alone.
Hall's raspy voice conveys a sense of worn pain, the same worn pain we can hear in our own heads, a voice we thought only we could understand.
The last verse of "Respirate" is directed at all of us, saying "Nobody's gonna save us/Nobody's gonna care if we spend our life/But I care now/I won't let you down".
In one interview along with "Melodic Magazine", Hall said "Respirate" was the heaviest song they had ever done. Although the heaviness is apparent, it is not in a way that will depress you or cause you discomfort. Rather, it feels like a big hug from an older brother, a hug you don't want to let go.
This is what most of "11:11" sounds like. This is undoubtedly the same band that sang about "washing the windows with Angelina" and being "totally nervous about going to Japan", although this time things seem a lot more dire. It's scary at times, and it can even feel a bit abnormal. Ultimately, you wouldn't want to go through the cold with someone else.
"11:11" is out now Gross Trade.