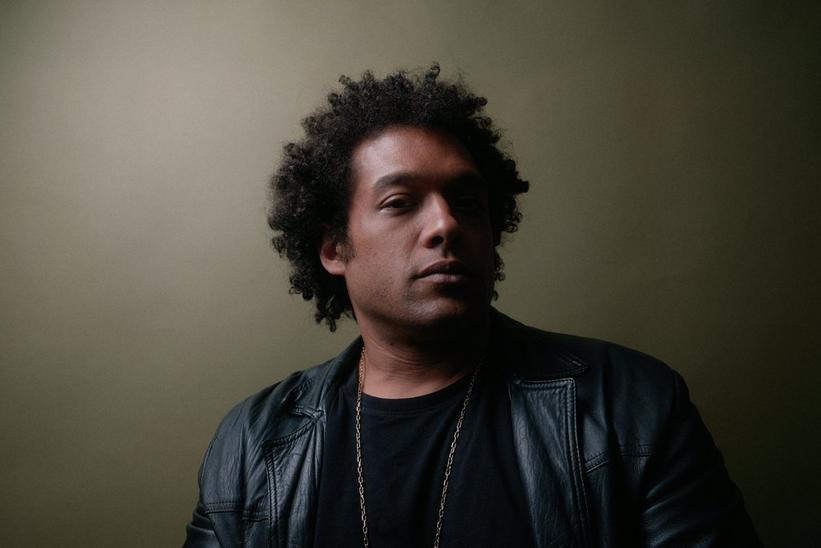 Rhythm is everything Makaya McCraven Is. The eclectic Chicago jazz composer and producer is also a drummer, and he points to the invention of drums as a turning point in popular music – the earliest ripples of which still cause ripples in modern sounds. "Even electronic music today is still kick-trap-hat," he says.
Rhythm is also the driving force behind one of the longest projects he has embarked on, In these timesout September 23 via International Anthem/Nonesuch/XL.
"This record was a long process, and when I started creating it, it revolved around a concept of rhythm, these odd beats and beats that I was working on: ⅞, ⅝ and 11/8, and putting them in grooves and beats that would translate them in a different way," he told GRAMMY.com. "Through the process of creating and composing the music and working it out live, it kind of represents what we're playing and where I went through that process and bringing it to a large-scale ensemble, and the orchestrate for the strings."
The seeds for his new album were first planted almost ten years ago, when he began working on a series of compositions that used unusual bars and time signatures, exploring rhythm in what it is less conventional. As the project slowly underwent a long and gradual evolution, becoming more ambitious over time, McCraven undertook a variety of other projects: recording and reconfiguring improvisations by jazz musicians in four different cities on Universal beingsreinventing Gil Scott-Heron songs on We are again againthen deliver a remix album on Decrypt the message. But at that time, the work on In these times never stopped.
In these times is one of McCraven's most ambitious musical ensembles, which is saying a lot considering the scale of some of his past projects. Each of its tracks incorporates the complex time signatures that provided the inspiration for the project – although there are a handful of them in standard 4/4 for good measure – as well as a number of elaborate string arrangements. . He also reunited with McCraven in the company of some of his former collaborators, including guitarist Jeff Parker, bassist Junius Paul and trumpeter Marquis Hill.
The album reflects the socio-political moment, informed by the chaos and fear of the pandemic, as well as recent political upheaval and activism. In these times shares its name with a longtime Chicago activist publication and opens with a quote from the interview archives of legendary writer and historian Studs Terkel ("I never want to be known as someone who opposes the progress"). There is no specific message that leads In these timesbut McCraven says the intention is to show some hope.
"Everyone is fed up, everything is a bit more nervous and you feel that everything could change. But if we are better towards each other and have more hope, maybe things will be better and that we can be nicer to each other," he says. "You can think of all the hard things that are going on, but there's also still a lot of beauty and a lot of amazing things to hope for and keep pushing for."
GRAMMY.com spoke to McCraven via Zoom about the long time creating his new album, the unfinished nature of the music, and making a socio-political statement with instrumental music.
This interview has been edited for clarity
The genesis of In these times goes back quite a few years. Was it ultimately different from what you might have originally imagined?
Yeah, absolutely. It's definitely different from what I had conceived when I started recording towards the start of the project.
I will often have a concept or maybe a process I want to work on, or a collaboration with a separate person or group of people, but the outcome is not yet determined, and I like to keep things open to different possibilities. I try not to give myself too much pre-script on what will happen. It's kind of like stepping back and letting him reveal himself to me. I tried a lot of different things, a lot of different ideas until I felt like this was the record.
You're working with a bigger ensemble, with lots of strings, and In these times is a rich and lush record. You could say it's a jazz record, but there are also elements of electronic music and other sounds. Was it your intention to bridge these musical spaces or create something that exists between them?
All that, yeah. I like to leave things open and ask the question of what are we really talking about with genre, and where one genre ends and another begins, and do they have any rules? Do we commodify music to be able to talk about it? We need language to give us something to connect with and talk about, but those are abstract concepts to me. I've played so much music with so many different people in so many different bands that were already hard to define. And sometimes a band itself is the definition of a sound or a period or a genre. Like Bob Marley. I know there's a whole genre of reggae, but what he did was something more specific.
I try to learn and play with people as well as I can and learn different things and be able to jump into different things and be a student of different styles. I could delve more into the synthetic sound versus the organic sound, or think about how much I want to be in production, or have a more natural sound or more openness with the musicians. It's certainly intentional, but the intention is never anything more than to seek out as many compelling sounds, emotions, and textures as possible.
What imprint on the music is left by your collaborators?
It is different for different projects. Most of the records are songs I wrote, like "In These Times" or "This Place That Place", or "The Knew Untitled". And then there's "Something Like a Lullaby," which is a piece of my mom's that I played and arranged for the record, and it pulls some of the string parts from the vocal parts that my mom did on her record.
Some pieces came with a bit more production, like maybe using strings that were arranged for another piece of music, then resampling them and using them as a new setting. With In the moment Where Universal beings, it was a much more collective, spontaneous composition. This record is a bit simpler with the tracks, but I got back into those spaces as well.
"The Knew Untitled" has a number of different arrangements and feels like we played it…and that just comes from playing live and everyone bringing their vibe and contributing to the piece.
I like to learn music as orally as possible and teach people by ear, although I give specific changes and parts, and it always leaves room for everyone's voice to shine through and shape where the melody is. takes place over a long period of time, until the last moment when I say, "This is the version that's going to make the record." I'll lean a lot on the musicians too, like "Do you think that's cool, man?"
With your compositions going through so many changes over time, are there endless possibilities as to how they can take shape?
Yes, I think so. It's natural in music. You can cover a track, rearrange a track and have new orchestrations. In the larger genre of jazz, you have jazz standards and can play and rearrange such version and such version. In modern jazz, you can re-harmonize that piece of music, or play a version that somehow lacks the bridge, and that goes for all types of music.
On this record, there are times of different nights of certain tracks in different spaces. Where it's like, OK, we're at the Symphony Center, the orchestra hall in Chicago, and then we're in the studio, and then we were in the In these times downtown office, where now we are in Hawaii [at] the mobile studio where I did production work at my mother-in-law's house. There are different times, but one thing I like to do is capture the recordings live and then re-present them on disk, not just as a live recording, but as snippets or with other elements. of production. Someone might be soloing in a show over a band in another space.
I appreciate the double meaning of the title, the juxtaposition of the idea of ​​time signatures with a reflection on the moment we live in. Was it intended as a commentary on something specific?
The Scrapbook [was recorded during] in the midst of the most intense change I think our world has ever seen, at least in my lifetime, due to the pandemic. And it definitely hit me as I was kind of going into the final stages of putting it all together. But before that, when I was working with the different time signatures, and I had [working titles] As hard times Where hard times, it even went back to the Trump days or the election stuff. Just tumultuous times, and it's all connected.
Around 2013-14, I did an interview with the publication In these times…about life as a professional musician. I gave a very candid interview about the dualities we face and how artists and musicians stratify classes in ways that most people in other professions don't. Maybe in one place they'll roll out the red carpet for you, and in another you'll be the helper. So it struck a chord and a lot of people reached out to me, "like no one ever talks about this stuff."
So it pulled me down this rabbit hole and I started diving into Studs Terkel [radio] archives. When I did the first performances of In these times commissioned by the Walker Arts Center, I used a bunch of samples of different dialogue from activists and artists and that's where the first quote on the record comes from. I like these concepts, for me, which are difficult to define. As, In these times: Time is running out. We can talk about how intense everything is now. But it was true before. And in the future, someone else will say, "fuck, everything is crazy at this time".
These concepts are in conversation with each other, but I think that's more of a question than an answer. That's the great thing about instrumental music, it doesn't necessarily dictate literal language and although it does speak in summaries, you can think about it from as many angles as you want.
Death Cab For Cutie on New 'Asphalt Meadows' Album, Shaking the Past and Embracing the End: 'We Had Nothing to Prove'