An invaded label: Ukrainian DJs, musicians, mix art and war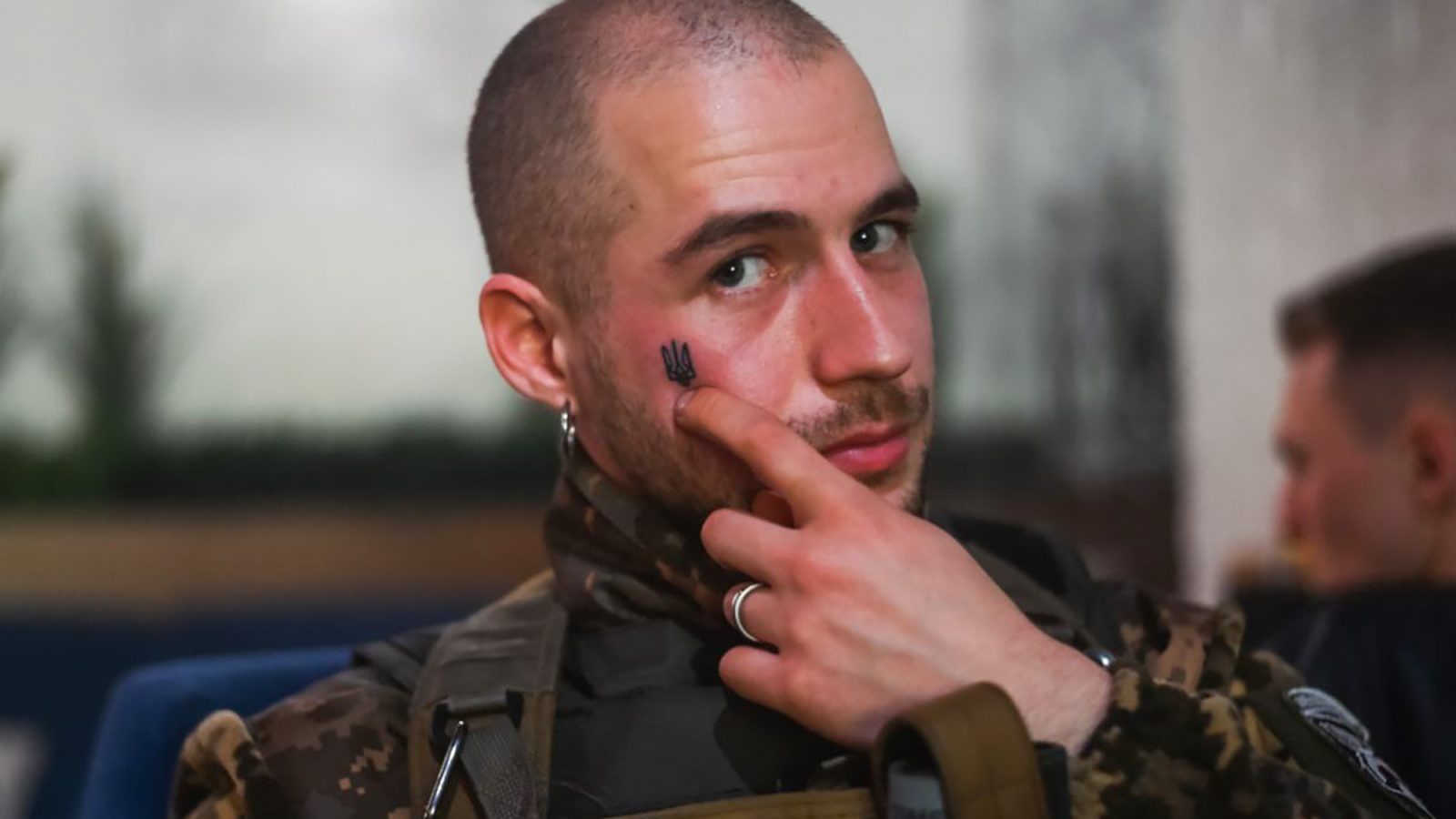 KHARKIV, UKRAINE — In the trendy shisha bar in central Kharkiv where they're taking a short break from work, Valery Neyman and his colleague look a little out of place, even in post-invasion Ukraine: dressed in camouflage full military clothes and body armor, assault rifles leaning against the wall.
The "job" for the duo is to provide the first response to a bombardment: they secure the area after a missile or artillery shell hits the town and then remove the shrapnel and any unexploded ordnance. Valéry is waiting for me and gets up to shake my hand.
"I'm sorry, I won't have much time," he said in English.
With his cool haircut, stylish beard and two earrings, Valery could have fit in among all the people I met in a popular nightclub in Kyiv or another Ukrainian city.
However, in addition to his uniform and weapons, another sign betrays the momentous change that has changed the life of every Ukrainian: on his right cheek there is a try (a trident), the national emblem of Ukraine. The tattoo is a provocation and an assurance.
"In Russian occupied territories they check for patriotic tattoos and they will kill you if you have one, that's why I got it," he explains.
"I don't want to talk to them, I don't want to negotiate. If they find me, I will fight to the death," he adds, punctuating his explanation by mimicking the burst of an imaginary machine gun.
A soldier with suicidal patriotism does not look completely lost in a crowd of young cosmopolitans, because he is not lost. These are his people. Just two months ago, Valery was an up-and-coming musician in Kyiv's thriving electro scene, performing and recording under the pseudonym Raavel.
If he hates the Russians for invading his country, he also has a personal score to settle: the Russians disrupted his career just as it was taking off.
"I've been making music for 10 years, and it wasn't until last year that my music started to catch on," he sighs. "Then the fucking war started. Well, what to do? I will defend my country."
As we sit and talk, between each of her responses, Valery takes long drags of the hookah, the water bubbling and Ukrainian pop music mixing in the background to provide a soundtrack.
Raised in a Russian-speaking family, he switched to Ukrainian in his daily life, but we converse in English.
A year ago, as Raavel rose to popularity, he joined music label Mystictrax, run by experimental electronic music producer and DJ Volodymyr Baranovskyi, which has been performing in Ukrainian clubs since 2011.
Raavel is far from an exception within Mystictrax: Six of the label's 20 artists have joined the Armed Forces of Ukraine or their hometown's Territorial Defense Forces, while the rest have become involved in some way. another in their country's war effort: Some are rallying and delivering food and medicine to vulnerable people around kyiv, and others have started raising money to buy supplies for Ukrainian soldiers.
During the first week of the Russian invasion, when tank columns threatened kyiv, Mystictrax helped produce a compilation titled Together for Ukraine. The 65-track album features compositions by renowned producers such as Laurent Garnier and Ben Sims, as well as covers designed by German photographer Wolfgang Tillmans. The proceeds from the sale, approximately $15,000, were then donated to several humanitarian organizations in Ukraine.
Many Ukrainian artists also became involved in fundraising efforts and used their art to draw attention to the war.
But for Valery, using art to aid the war effort was not enough; and the war effort was more important than his art.
"I know a lot of artists who have left Ukraine," he says. "When I asked them why, they said, 'Oh, I have health problems', or whatever. And I'm like, okay, we all have our own problems.
He wanted to join the army immediately and start fighting, but a friend convinced him to volunteer at a hospital in Kharkiv. What he saw served as a dark introduction to the realities of war.
"I was helping transport people, applying bandages when needed," he says. "I saw a lot of wounded soldiers when I was volunteering there, children who died, as well as old people."
His unit – combat engineers, technically, or sappers – is positioned about 20 km from the center of Kharkiv, Ukraine's second largest city and one of the hardest hit by the war. Every day, Russian artillery and ballistic missiles rain down on the city's outskirts, forcing the remaining residents to take refuge underground. As we speak, the muffled sounds of explosions rumble and echo in the distance.
As part of a demining unit, his duty now is to detonate or defuse unexploded bombs and mines that are scattered throughout the country.
"Instead of running away from the unexploded ordnance, the guys in my unit will be running towards them to inspect them," he laughs. "We are crazy."
Producing music, even in busy cities, has become a vital form of escape that continues even as other conditions deteriorate
On a sunny afternoon back in kyiv, I meet Ian Yeriomenko – another Mystictrax artist – in his apartment in Podil, the historic district of downtown kyiv.
"The invasion was unexpected, but not as unexpected as 2014," he tells me. "A week before the attack, I had already started storing food."
In the early days of the war, Ian had helped collect and distribute medicine, clothing and supplies with other volunteers around town.
"When the war broke out, my first thought was to take a gun and head to the front," says the 30-something, pouring himself a cocktail. "But when I saw the real soldiers, I realized there was no place for me at the front."
Once the initial shock of the war had passed, Ian returned to composing, although he says his music has been tainted by the experience. He gets up and puts on one of his last tunes, a moody mood track that slowly fills the room with a throbbing beat, reminiscent of a heartbeat.
"This music lends itself better to reflecting on life in the wee hours of the morning, rather than partying," he tells me with a slight smile.
Producing music, even in busy cities, has become a vital form of escape that continues even as other conditions deteriorate.
Arthur Kriulyn is a DJ who currently lives in the city of Berdyansk in southern Ukraine, which has been occupied by Russian forces since February 27.
"At first there were constant sirens, and the administration asked to keep the lights off," he explains via Telegram. "It was very tense and creating music was not my priority."
Shortages of food, gas, electricity and water have become the norm, while violence against the Ukrainian population is rampant. Administrative buildings were seized by the occupants, and collaborators took over the administration of the city.
Despite power cuts and lack of internet, Kriulyn was able to produce and release a number of compositions for Mystictrax. "Music has become a kind of therapy in these strange times," he says. "We have to keep believing in the best outcome – our victory."
Not all Mystictrax musicians have had the chance to continue releasing music. Valery tried to work.
"I tried to produce tracks at night, when I was already in the army," says Valery. "I tried to record something, but I couldn't. My brain was in another dimension, I couldn't concentrate.
"When this shit is over, I hope I can start making music again," he told me, standing up to grab the AK-74 leaning against the wall. "That's one of the thoughts that keeps me going."
---